Ironstate Development, Panepinto Properties and Marriott Cut the Ribbon on New 152-Suite Hotel Adjacent to the Grove Street PATH Station and Minutes from Manhattan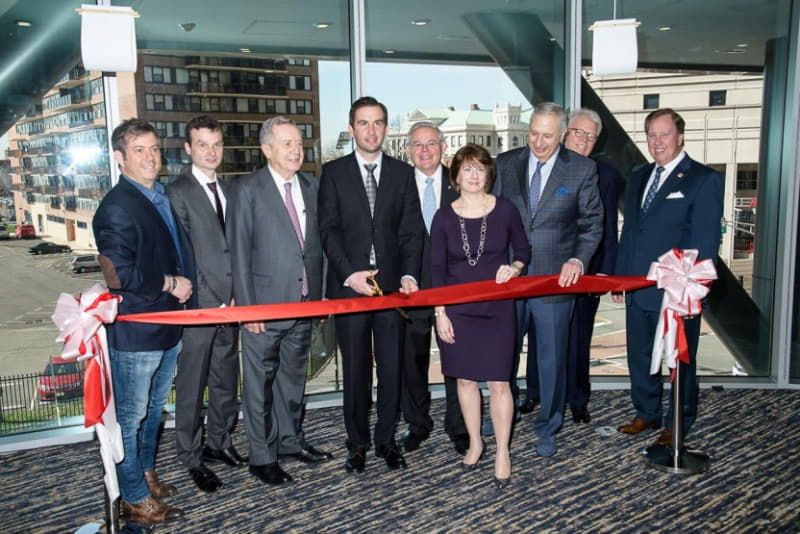 Development and hotel executives joined public officials April 10, 2017, to cut the ceremonial ribbon at the opening of the Marriott Residence Inn in Jersey City, NJ. From left: David Barry, president, Ironstate Development Company; Jason Kimmel, development partner; Frank Guarini, development partner; Steven Fulop, Jersey City Mayor; Bob Menendez, U.S. Senator (D-NJ); Diane Mayer, vice president and global brand manager, Residence Inn; Joseph Panepinto, president and CEO of Panepinto Properties; Lew Wiens, chairman and CEO, True North Hotel Group; Richard Merkel, president and COO, True North Hotel Group.
With the cut of a ceremonial ribbon, the 152-suite Residence Inn by Marriott® officially opened on Monday, April 10th, in downtown Jersey City, New Jersey. The all-suite Residence Inn Jersey City will operate as a Marriott franchise and is owned by Columbus Hotel Urban Renewal, a joint venture entity of Ironstate Development Company of Hoboken, New Jersey and Panepinto Properties of Jersey City. The hotel is managed by True North Hotel Group of Overland Park, Kansas.
Located at 80 Christopher Columbus Drive in the heart of this vibrant urban destination and just minutes from Manhattan via the adjacent Grove Street PATH Station, ten miles from Newark International Airport and 15 miles from LaGuardia Airport, the Residence Inn Jersey City offers business and leisure travelers convenient access to the myriad commercial, cultural, entertainment, dining and nightlife pursuits located on both sides of the Hudson River.
"The Residence Inn Jersey City provides a much-needed extended-stay hotel option in an area that already offers terrific public transportation, a walkable setting, and proximity to Jersey City's financial district, midtown and downtown Manhattan, Wall Street, and other points of interest," said David Barry, president of Ironstate Development Company. "We are excited to partner with Marriott and its globally-recognized Residence Inn brand, and are confident the hotel will appeal to business and leisure travelers, both as a stand-alone destination and as a launching point into New York City."
Development partner Joseph Panepinto, president and CEO of Panepinto Properties, added: "We're proud to introduce additional hospitality services to Jersey City that promote the expansion of local businesses, generate additional tax revenues and create jobs for local residents of our community. The Residence Inn reflects the innovative lifestyle and culture of our city."
The opening celebration drew public officials led by U.S. Senator Robert Menendez (D-NJ) and Jersey City Mayor Steven Fulop, community dignitaries and business leaders. The influential group of attendees all touted the role the hotel will play in advancing Jersey City as the best midsize city in America.
"This hotel opening is a significant step for Jersey City," Mayor Fulop said. "It is the first hotel to open away from the waterfront in quite some time and reflects a growing desire by people to visit and stay in Jersey City, not just because of our connection to Manhattan, but because of everything we have to offer right here."
Senator Menendez added that smart, well-planned projects like this one benefit the local economy in many ways and have helped Jersey City emerge as the shining city it is today.
"David Barry had a vision where others did not. People like him and Joe Panepinto, people who lived in this area for a long time, know how far this city has come," Senator Menendez said. "This city has become a significant destination, which is saying something in and of itself. But this is not just about opening a new hotel in Jersey City. It's about all of the economic potential that it brings. It's about changing the lives of the people in your community, so I applaud the developers and the mayor and council for bringing that dynamism here together."
The 14-story Residence Inn offers studio and one-bedroom suites with dramatic Jersey City, Statue of Liberty and Manhattan skyline views. Guests looking for a revitalizing sleep experience will enjoy the hotel's plush mattresses and crisp linens, while those focused on being productive will value their suite's large, well-lit work desk, ergonomic chair and complimentary high-speed Internet access. Designed for short to long-term stays, each suite also has a fully-equipped kitchen with a coffeemaker, microwave oven and residential-sized appliances, while one deluxe suite features an oversized balcony for desirable outdoor space.
The new hotel rotates a wide selection of choices at its complimentary daily hot breakfasts. Favorites like bacon and eggs, Greek yogurt, cut fruit or waffles are complemented by an extensive offering of toppings, ranging from fresh spinach and cheese to sliced almonds and strawberries.
Extending the feeling of comfortable living on the road, the Residence Inn Jersey City offers guests inviting and functional public spaces to relax or collaborate. Road warriors and families alike enjoy the hotel's grocery delivery service, 24-hour onsite food and beverage market, dry cleaning services, and onsite guest laundry room. Additional amenities include a state-of-the-art fitness center, 360 square feet of meeting space to accommodate functions of up to 15 people, and complimentary Wi-Fi, fax and copy services. The hotel also features a full-service bar, and a rooftop patio offering breathtaking views, a barbecue grill and fire pit will open in 2018.
"We are pleased to introduce Residence Inn hotels in the Jersey City area," said Diane Mayer, vice president and global brand manager, Residence Inn. "When on the road for an extended period, our guests need space to spread out, maintain their life's pace and restore their energy to help them maintain a healthy balance and routine while traveling. This new hotel offers them a seamless blend of modern style and functionality that allows them to settle in and thrive."
"Given True North's deep history and expertise in extended stay and, specifically, with the Residence Inn brand, we are very excited to bring our unique level of service to guests of this beautiful new property," added Lew Wiens, chairman and CEO, True North Hotel Group.
The Residence Inn Jersey City was developed by Ironstate Development Company and Panepinto Properties, with advisory support from Wave Hospitality Advisors, as part of the Partnership's larger mixed-use development effort along Christopher Columbus Drive. The overall project includes three residential towers comprising 1,484 luxury rental residences, a 30,000 square-foot Base Gym, and the recently-opened Sprout Market Place. The development has helped transform the Grove Street neighborhood into an area teeming with new restaurants, culture and street life, including the bustling, car-free Newark Avenue which was recently named one of the hottest blocks in the New York City area by the New York Post.
Expressly designed for its Jersey City location, the Residence Inn combines modern architecture with an urban sensibility to create an aesthetic and hospitality experience that reflect its surroundings. As a nod to the arts, long a cherished part of the fabric of Jersey City, the developers commissioned 240 works of art by regional artists, many of whom are Jersey City residents. The collection of paintings, sculpture, and embellished limited edition prints was curated by Stefania Panepinto of Panepinto Fine Art and are displayed throughout each of the hotel's guest suites and public amenity spaces.
For more information or reservations, call the Residence Inn toll-free number at 800-331-3131 or visit residenceinn.marriott.com.
About Ironstate Development Company
Ironstate Development Company is one of the largest privately held real estate development companies in the Northeast. Based in Hoboken, New Jersey, Ironstate engages in the development and management of large-scale mixed-use projects and has a diverse portfolio of residential and hospitality assets valued at several billion dollars. Additional information on Ironstate Development Company is available on the Company's website at www.ironstate.net.
About Panepinto Properties
Panepinto Properties is an independently-owned and operated real estate development company with a proven track record since 1977 as a leader in commercial and residential development. At the forefront of innovative real estate design and infrastructure development, Panepinto Properties offerings include long-term property and asset management, as well as contemporary fine art services for residential, office, and hotel projects. Panepinto Properties works with clients based in Jersey City and internationally to manage associations with financial institutions, city and state agencies, engineers, architects, designers, artists, and community members to ensure a comprehensive development process. For more information about Panepinto Properties, please visit www.panepintoproperties.com.
About Residence Inn by Marriott®
Residence Inn by Marriott is the global leader in the extended-stay lodging segment, with more than 700 properties located in the United States; Canada; Europe; the Middle East and Central America. Designed for long stays, the brand offers spacious suites with separate living, working, and sleeping zones. Fully functional kitchens; grocery delivery service; 24-hour markets and complimentary breakfasts help guests maximize their time and thrive while they travel. Each Residence Inn offers free Wi-Fi in both public and guests spaces to ensure continuous connectivity while on the road.
As a member of the Marriott International portfolio, Residence Inn participates in the award-winning Marriott Rewards® frequent guest program. Members earn their choice of points toward free vacations or frequent flyer mileage for dollars spent at any of the more than 4,000 Marriott hotels worldwide.
About True North Hotel Group
True North Hotel Group's core strengths as an established developer of extended stay and select service hotels, and its expertise in third-party management, have long placed the company at the forefront of major brands and investors that recognize the company's ability to deliver innovative solutions, best-in-class results and exceptional guest experiences. A proud six-time recipient of Marriott International's Partnership Circle Award, True North's 25-property portfolio includes hotels within the Marriott, Hilton, Hyatt and Holiday Inn brands. Headquartered in Overland Park, Kansas, True North Hotel Group is owned by the Wiens Family and Richard Merkel.