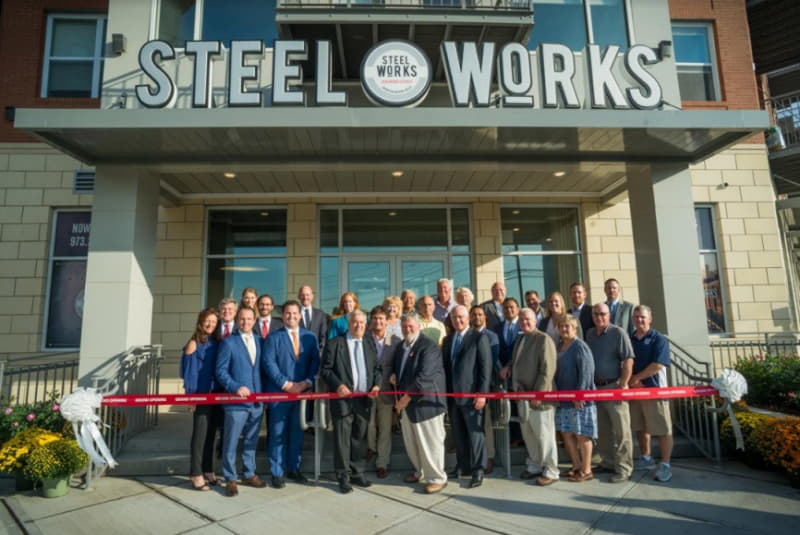 The partnership of Advance Realty and DeBartolo Development yesterdaycelebrated two major milestones in the continued creation ofthe Riverbend District in Harrison, New Jersey – an expansive, multi-phase mixed-usedevelopmentlocated adjacent to the Harrison PATH station.
Joined by Town of Harrison officials,the partnership broke ground onthe construction of the transformative development's next phase– a residential rental buildingoffering 286 homes – before hostinga ribbon-cutting ceremony to celebrate the opening of SteelWorks, a new community of 286 studio, one- and two-bedroom luxury apartments.
Both SteelWorks and the new building (Block F) are part of an energetic, 35-acre neighborhood that provides a short 18-minute train ride to New York City via the Harrison PATH station. The Riverbend District is adjacent to Red Bull Arena, in the heart of a dynamic area that will soon be home to an abundance of restaurants, bars, shops, entertainment and culture.
"Both the construction of this new building and opening of Steel Works represent critical milestones in the town of Harrison's ongoing revitalization," said Harrison Mayor James A. Fife. "We are thrilled to add these state-of-the-art apartments and amenities to our already vibrant community, and look forward to the new energy and resources the rapidly developing Riverbend District will bring."
Once complete, the Riverbend District will feature approximately 3,000 luxury apartments, alongside 100,000 square feet of premium retail space.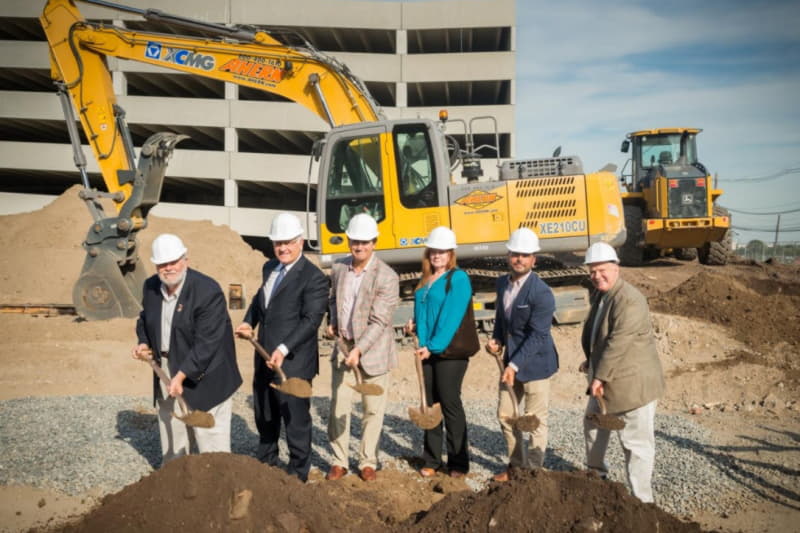 "SteelWorks representsa totally unique product in what has become one of New Jersey's fastest-growing transit-oriented markets," stated Peter Cocoziello, founder, president and CEO of Advance Realty. "We're proud to play a part in this transformation by introducing first-class luxury housing, high-end amenities and exciting retail concepts into the Riverbend District."
DeBartolo Development President and COO Edward M. Kobel added: "The success of SteelWorks serves as a testament to the demand for lifestyle-oriented housing in urban environments, and we look forward to drawing more renters to Harrison as our vision the rest of Riverbend continues tocome to fruition."
The 286 thoughtfully designed residences at Steel Works are complimented by a collection of high-end amenities that includes a state-of-the-art fitness center with a separate spin room and 24/7 on-demand fitness classes;game room with a golf and multi-sport simulator and shuffle board; heated outdoor pool and clubhouse; chic resident lounge; high-style pet park; outdoor movie screen; and expansive roof deck with fireside lounge; bar and barbeque grills.
Incorporating design and décor that pays tribute to Harrison's industrial past, SteelWorks residences boastmodern, chef-inspired kitchens with stainless steel appliances, designer cabinetry, quartz countertops, open shelving,and built-in wine chillers; Amazon Echo Dot equipped with "Alexa" voice service; elevated nine-foot ceilings; expansive walk-in custom closets; frameless glass shower doors;audio enabled sound system; and a choice of two distinct color pallets. Apartments on the building's first floor feature exposed spiral ducts with painted concrete ceilings,exposed brick walls, and other stylish components contributing to an urban motif.
"SteelWorks is outfitted with the features and amenities that appeal to today's sophisticated renterwanting a holistic lifestyle with all the conveniences of urban living," said Jackie Urgoof The Marketing Directors, which oversees leasing at Steel Works. "With demand being extremely high for this type of opportunity, we expect the community will continue to lease up quickly."
To schedule a private viewing of Steel Works, visit www.steelworksapts.com or call 973-250-4352.
About Advance Realty
Advance Realty is one of New Jersey's most well respected owner/operator/ developers. Advance owns, manages or has invested in a diversified, 10-million-square-foot portfolio of properties across all asset classes throughout the Northeast Corridor. The company actively pursues real estate investments in commercial, residential, industrial, retail, mixed-use, and other projects that enhance value through development, repositioning and redevelopment. For more information, visit www.advancere.com.
About DeBartolo Development
DeBartolo Development is one of the largest private real estate companies in the United States with a successful track record spanning more than seven decades. The company invests in real estate assets of all sizes and scopes, specializing in opportunistic acquisitions and market-driven, ground-up development of multifamily, hospitality, retail and mixed-use projects. Most recently, DeBartolo developed and opened Ka Makana Ali'i, the first regional shopping center built in Hawaii in over 30 years. For more information, visit www.debartolodevelopment.com.