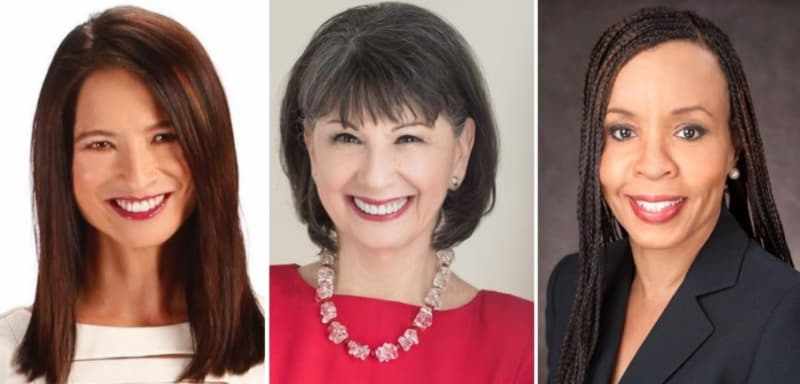 Mi-Ai Parrish, Gloria Feldt and Kimberly Godwin
Take The Lead's 50 Women Can Change the World in Journalism (#50WomenCan – https://www.50womencan.com/journalism) had its first graduation ceremony on May 10 at the Ford Foundation in New York City. Take The Lead (https://www.taketheleadwomen.com) was cofounded by Gloria Feldt, a nationally recognized leader in gender equality and the creator of its 50 Women Can Change the World program. Pulitzer Prize winner Mi-Ai Parrish, former president and publisher at USA TODAY Network and McClatchy, served as emcee and Kimberly Godwin, executive vice president of News, CBS News, participated in a fireside conversation with Feldt. Graduates encompassed many high-profile figures from top press outlets, including CNN, Chicago Tribune, Associated Press, The Washington Post and New York Magazine.
The signature 50 Women Can Change the World program in media came at a turbulent time for an industry roiled by change and beset by layoffs in both traditional and digital newsrooms. Sponsored by The Ford Foundation and the Democracy Fund, the 50 Women Can Change the World in Journalism program harnessed the collective power of the cohort to build a more just and equal world, advance in their careers, and work as a cohort to re-envision journalism. "Throughout the course of the program, I saw a transformation in the cohort members. As they explored the tremendous power they have to lead and live without limits, and worked with us to develop leadership plans to succeed and a strategy to do it, I knew I was witness to women who can and will change the world," says Feldt.
Attendees met in February and May for an intensive program that combined virtual and immersive in-person sessions along with personalized, one-on-on coaching. The program's research- and experience-based curriculum, developed by Feldt, focused on changing the power paradigm so that women can elevate career intentions, provided actionable tools and skills, and required participants to create both individual and cohort Strategic Leadership Action Plans. Progress will be measured in three- and six-month intervals post-graduation.
Impact of 50 Women Can Change the World in Journalism
According to cohort member Nancy Colasurdo, a writer who publishes opinion columns on her blog and has written for CNBC, MarketWatch, Fox Business and Fortune, "My perspective on gender roles in the workplace and society has shifted and widened because of the program. My role in 50 Women Can Change the World in Journalism has directly influenced about half of the columns I've written since the program started."
In addition to Feldt, Patricia Jerido, lead trainer, and Fara Warner, industry expert trainer, both Certified Take The Lead Leadership Ambassadors, led the program. "The process has been transformative for cohort members," says Jerido. "The women are all successful in their own right, but they really haven't taken the time to think intentionally about leadership. They are encouraged and supported to go in deep to make changes and focus on how they want to lead. We expect to see them ask for promotions and raises, to put their names out there in different ways. We've even seen new promotions and scholarships awarded during the 3-month period."
An enhanced focus on planning and strategy business modeling was also evidenced at the program's end. "Women I've been coaching feel they can see their future, that they have a really good plan to move forward," says Warner. "Some are building new business models for journalism and others are moving into new roles at their organization. This is all thanks to the ability they've gained to think strategically about what they want."
About Take The Lead's 50 Women Can Change the World
Cofounded by Gloria Feldt, Take The Lead's mission is to prepare, develop, inspire, and propel women to take their fair and equal share of leadership in every sector by 2025. The 50 Women Can Change the World program provides women with the intention and skills to achieve greater leadership roles and embrace their power to lead change in the culture of their professions.
To learn more, visit: https://www.50womencan.com/main.