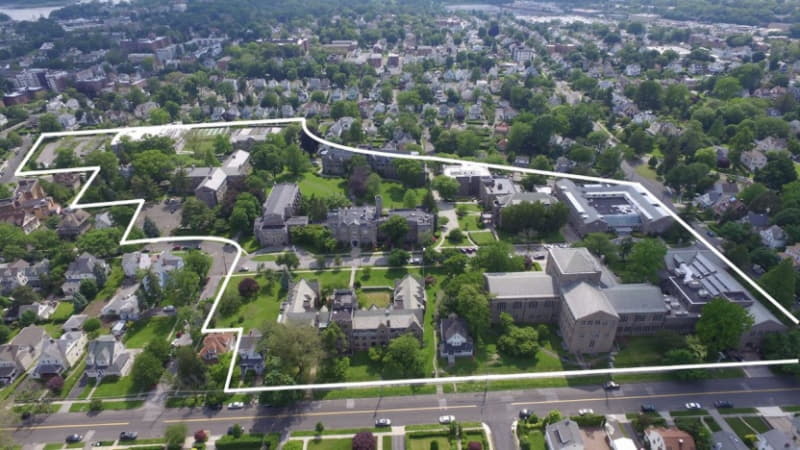 A sale of the 15.6-acre campus of The College of New Rochelle ("CNR') will take place in the next two months with details forthcoming.
The announcement of the bankruptcy proceedings follows CNR's filing today of Chapter 11 in the United States Bankruptcy Court in the Southern District of New York, case number 19-23694.
CNR concluded teaching on August 10, 2019 and Mercy College will lease the campus and utilize the facilities for educational activities through 2020.
A&G Realty Partners ("A&G") and B6 Real Estate Advisors ("B6"), who have been retained by CNR as real estate advisors to the school, have announced that the deadline to submit qualifying bids to participate in the bankruptcy auction is anticipated to be in early November. Final bidding procedures and deadlines will be announced once they are approved by the court in the coming weeks.
The 20-building campus, encompassing over 425,000 square feet of buildings, is centered around a historic 19th century castle. The campus also features a modern recreational and educational complex, including an NCAA competition-sized swimming pool and basketball court; computer and photography labs; a TV production studio; a 200,000-volume state-of-the-art library; a student center; a life sciences building with several laboratories; four residence halls and a learning resource center for nursing.
"The bankruptcy filing is the final chapter of this storied college. Over the course of the last 115 years, CNR has provided more than 87,000 students - women and men, both traditional age and adult learners - with the opportunity to better their lives through education," said Mark Podgainy of Getzler Henrich & Associates, the Interim Chief Restructuring Officer of CNR. "We are pleased to have two well-respected and experienced firms in A&G Realty and B6 Real Estate Advisors to oversee the sale of the campus as it transitions to its next chapter."
The CNR campus is situated on the land of former 19th Century hotelier Simeon Leland who built the castle as his summer home. It is located in a quaint residential neighborhood of New Rochelle and is within walking distance to both the Long Island Sound and downtown. If sold to a developer, the City of New Rochelle would review proposals for other potential uses for the campus, while respecting the surrounding neighborhood, such as educational, technology, research and development, health and wellness, senior housing (assisted and independent living) and condominiums.
"There has been tremendous interest in the campus since the announcement that CNR was closing," said Emilio Amendola, Co-Founder and Co-President of A&G Realty. "A turnkey campus such as this, located 15 miles from Manhattan, is a once-in-a-generation opportunity for an educational user. The orderly bankruptcy sale process will maximize recovery for all parties involved."
"The campus offers a variety of development opportunities for a diverse set of end users," said Jeff Hubbard, Executive Managing Director of B6 Real Estate Advisors. "We have continued to see strong interest in this rarely available property that is well-situated in a suburb that features convenient transportation to Manhattan and attractive lifestyle options that add to the value of this asset."
For additional information on the sale including inspection dates, please visit www.CNRCampus.com
About A&G Realty Partners
A&G Realty Partners are the real estate industry leaders in both Chapter 11 and Non-Chapter 11 dispositions. A&G Realty clients include some of the nation's most recognizable companies in distressed and healthy situations including Sports Authority, ITT Technical Institute, Dowling College Career Education including Briarcliff College, A&P, Toys R Us, Office Depot and RadioShack. A&G Realty is a leader in finding innovative ways to consolidate and reconfigure real estate to achieve the highest possible value, and has disposed of more than 500 million square feet of space. A&G Realty Partners was founded in 2012 and is headquartered in New York with offices in Chicago and Los Angeles. For more information, please visit www.agrealtypartners.com.
About B6 Real Estate Advisors
B6 Real Estate Advisors is an investment sales and capital advisory firm with operations in New York City and New Jersey. The firm employs a distinct Territory Network model that ensures sub-market expertise for its agents along with an owner-aligned philosophy and a technology-forward platform. B6 agents are empowered with market intelligence and a fully integrated and customized proprietary platform that enables them to provide the highest level of transparency and value for their clients. To learn more about B6 Real Estate Advisors, please visit http://www.b6realestateadvisors.com/