North American Startup's Occupant In/Out Radar System Rivals Heavily-Funded Competitors at a Fraction of the Cost ($399 for People Monitoring)
COVID-19 has disrupted our social and economic order at lightning speeds and on an unprecedented scale changing the way mankind approaches wholly all happenings now: unemployment has shuttered, travel has virtually come to a halt, and the workforce has yet to fully return to office spaces.Spatial distancing has become commonplace, but fear still looms as previous products promised to keep sick workers at home and hinder the virus have been challenged by experts warning they may be inaccurate, too expensive, and most importantly violate privacy
Until now.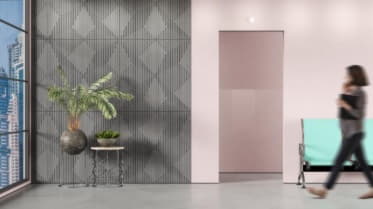 Xandar Kardian, the first tech start-up to commercially integrate presence detection solutions into international airports, hotels, banks and office buildings, has deployed a full line of corporate cost-effective autonomous and continuous occupancy monitoring solutions to comply with office reopening safety protocols. Its smart building systems have proven to be accurate, do not violate or even store occupant data, and are a fraction of the cost when compared to its competition.
The company's current COVID19 solution systems include:
People Counting - Software deployable to corporate boardrooms, office space, co-working zones, factory assembly lines, shopping lines, waiting/sitting areas, department stores, supermarket aisles, etc.Simple installation is available with discreet sensors on walls, ceilings, signage, over aisles - anything is possible with the radar-based people counting solution. Xandar Kardian's In/Out people counting solution is $399 with a $10 monthly fee.
Co-Working Space Guidance + Smart Disinfection Control System - Real-time disinfection once "occupied" status is confirmed (longer than one-minute dwell time), the system will wait until it becomes vacant before starting the 72-hour* clock countdown.The seat / desk will be 'disabled' for 72 hours until a janitorial / disinfection crew member comes and sanitizes the surface with 62-71% alcohol-based solvent and resets the clock.
Why Radar?

"We were the first to even attempt people counting with radar, which led to numerous peer reviewed journal publications and patents. Today, it is one of our best sellers having deployed into dozens of buildings in North America and EU, "said Sam Yang, Managing Director at Xandar Kardian. "When the pandemic hit, we adapted our systems a bit to meet novel needs, but the technology was already available. Getting accurate presence and vacancy detection has never been more important than now, due to the pandemic. However, Xandar Kardian's solution is much more than just another "occupancy" sensor … we take monitoring and facilitation of action steps to the next level."
While Xander Kardian's products are considered far superior in design and function, and less costly to integrate, the company remains somewhat under the public radar. "Our competitors in the marketplace have attained a higher profile due to massive levels of investor funding," Yang said. "Xander Kardian has created this product line completely organically. So, while we may be one of the best kept secrets in our industry, our clients recognize the difference."
The full suite of Xandar Kardian smart technologies are currently deployed and in-use throughout North America and Europe. or more information, please visit xkcorp.com.
For more information about Xandar Kardian's monitoring solutions, please visit: xkcorp.com/covid19 or access any approved marketing materials via the XK Digital Media Kit.
About Xandar Kardian
Xandar Kardian is a startup with a global team operating from the United States, Canada, and South Korea. Founded in 2017, the company are pioneers in the practice of accurately counting people by detecting micro vibrations using radar, thus detecting human breathing and heart rate, for accuracy. Xandar Kardian is the first company to successfully deploy this presence detection solution commercially, into international airports and dozens of buildings in North America and Europe using digital radar signal processing. The company has conducted extensive research and development, validated by more than 20 journals, and holds 23 patents. For more information visit: xkcorp.com.