Photo Courtesy: Chris Dewalt
2.3-Million-Square-Foot Landmark to Install Eight Linear Miles of Glass
One of New York City's largest historic commercial properties, the 2.3-million-square-foot Starrett-Lehigh Building owned by RXR Realty, adjacent to Hudson Yards, is in the midst of a window replacement program that ranks among the largest in the city's history, reports Michele Boddewyn, AIA,president of Boddewyn Gaynor Architects (BGA), which designed the project.
The 19-story city-landmarked structure occupies an entire square block bounded by 11th and 12th Avenues, and West 26th and 27th Streets, just south of Hudson Yards. Its roughly 5,000 windows, laid side by side, would stretch for approximately eight miles.
Known today for such high-visibility tenants as Martha Stewart Living, McGarry Bowen, Tommy Hilfiger, Hugo Boss, and Ralph Lauren, the Starrett-Lehigh Building originally served as a massive warehouse and freight terminal for the Lehigh Valley Railroad, which brought freight directly into the building via a rail spur and from barges on the Hudson River. To this day, the oversize freight elevators bring delivery trucks to each floor.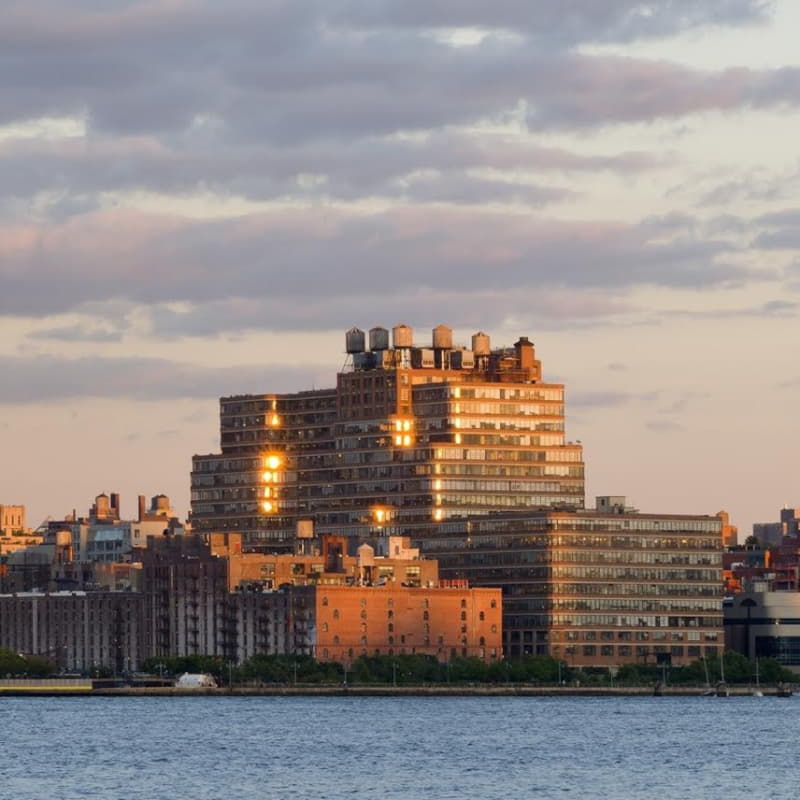 Photo Courtesy: Cassandra McGowen
The structure was opened in 1931 and designated an individual landmark in 1986, and is part of the West Chelsea Historic District.
Ms. Boddewyn says the building's original steel-framed continuous 'ribbon style' windows are being replaced by energy-efficient aluminum-framed units, at the rate of about 12 windows per day.
"To make this process less invasive and disruptive for RXR's building tenants, we are replacing windows at night," says Ms. Boddewyn. "It's a long process, but by installing the windows after work hours, we are ensuring that each window is installed properly and safely and with little disturbance to those in the building."
The installation work, involving over 20 types of windows of varying size, was preceded by several years of BGA and RXR team's planning and preparation. In 2011, BGA was tapped to define the parameters of the project, survey the existing windows and determine the performance requirements related to each one, make recommendations for the type and material of window to be used, help select the manufacturer, and ensure that all work complies with the New York CityLandmarks Preservation Commission's guidelines.
The replacement of the windows will enhance the value and tenant experience at the Starrett-Lehigh Building, adds Alan Gaynor, AIA,founder and principal of BGA. "This is one of the most impressive buildings in New York, and these new windows, which are part of an overall property upgrade, will maintain its iconic exterior while significantly reducing heating and cooling costs,"he says."New, more efficient windows also will improve the comfort, as well as the acoustics, of the tenant spaces."
Graham Architectural Products of York, PA,is the window manufacturer.
Boddewyn Gaynor Architects, D.P.C. offers full-service architecture, interior design and planning services to a wide range of corporate, not-for-profit, retail and institutional clients. The firm's work ranges from providing highly individual designs for image-conscious clients to creating innovative solutions to repurpose older structures for new uses. Boddewyn Gaynor Architects has considerable experience with improvements to landmark buildings and with obtaining approvals from the New York City Landmarks Preservation Commission. In 2010, the firm was designated a Women's Business Enterprise (WBE) by the Women's Business Enterprise National Council and in 2012 as a Disadvantaged Business Enterprise (DBE).