In an exceptional collaboration, TOWN Residential, New York's leading luxury real estate services firm, and Chestertons, one of London's most established and respected residential property specialists, has created a remarkable alliance within the world's two chief financial centers.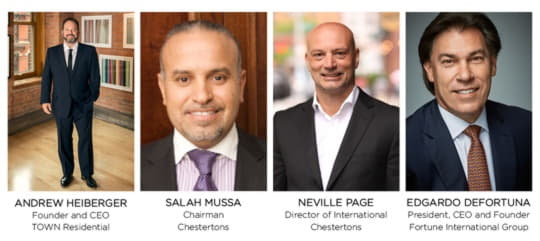 Working from within these two global cities and extending across Europe and the Middle East, where Chestertons has a strong presence, the association will deliver a large domestic and international audience to some of the world's most desirable properties and include more than 900 industry-leading associates.
Originally established over 200 years ago in 1805, Chestertons is one of the foremost real estate firms in London with over 30 local offices and an international reach that incorporates 70 offices extending across 19 countries and five continents.
The firm operates at luxury end of the market and specializes in sales, rentals, property management, new development services and more. Three of the company's most recent accolades include being named Lettings Agency of the Year 2016 and winning Gold for both Best Innovation and Best Marketing at the Sunday Times Estate Agency Awards in 2016.
Neville Page, Chestertons' Director of International, commented "America has long been a key market for London's luxury property market and recent analysis of our website reinforced this by revealing that 29% of international visitors came from the US. We are therefore very excited to announce this incredible partnership with one of New York's most dynamic and successful real estate companies and look forward to working together for the benefit of both our clients and associates."
"Since TOWN's inception, we have sought to form genuine relationships with best in class local experts as a way to extend our brand in an authentic and genuine way," said Andrew Heiberger, founder and CEO, TOWN Residential. "Our firms share a similar ethos and are aligned in core values. I look forward to deepening our relationship and long term success."
This collaboration comes as the second of TOWN's successful associations beyond New York City; the first of which came in 2015 through the formation of a strategic partnership with Fortune International Group, South Florida's fully integrated real estate firm.
Creating a dynamic network between New York City and Miami, the firms have since retained a consistent integration of collaborative marketing, communications, and social media efforts, resulting in unequalled access to local knowledge, expertise, and information between the sellers, purchasers, developers, and agents of each firm. The highly effective strategic alliance boasts a dynamic network of more than 1,650 industry-leading associates that extends to Sao Paulo, Brazil; Buenos Aries, Argentina; Punta del Este, Uruguay; and Mexico City, Mexico – cities consistently ranking among the most popular destinations for today's affluent luxury home buyers.
TOWN will mirror its success with Fortune International Group in South Florida with a projected success with Chestertons in London and the Middle East. Committed to the idea that today's Manhattan broker must be well-versed about global gateway markets to best-serve his or her clients, the firms will employ ongoing opportunities to learn more about the global real estate marketplace. Most notable of these efforts will be through The Astor Room, TOWN's industry acclaimed professional development platform that delves into all facets of the industry and its intersection with finance, marketing, and technology.
During the first quarter of 2017, TOWN Residential successfully transacted more than $429 million in total residential and commercial sales and leasing volume. This total is comprised of 201 sales transaction sides and 479 leasing transaction sides. Since inception, the firm has successfully completed more than 19,600 transactions totaling over $11.4 billion in residential and commercial sales and leasing volume.
Throughout the quarter, the firm successfully transacted 14 properties over $5 million, with 6 of those transactions exceeding $10 million; while also completing 43 rental transactions over $7,500/month, with 32 of those transactions exceeding $10,000/month. TOWN Residential is currently representing 163 active sales exclusives and an additional 142 sales listings in contract totaling more than $885,871,347; as well as 218 of the city's top luxury rental exclusives.
About TOWN Residential
Founded by Andrew Heiberger in 2010, TOWN Residential has cemented its position as New York's foremost luxury real estate services firm with an exhilarating foundation and seamless execution of best-in-class customer service by an unparalleled team of more than 500 Representatives and professionals strategically located in ten prime Manhattan, Brooklyn and Queens locations. TOWN Residential specializes in luxury residential sales; leasing; the marketing, sales and leasing of property developments; commercial and retail. www.townresidential.com
About Chestertons
Established in 1805, Chestertons is now one of London's largest and most successful real estate agents, with over 400 employees and 32 branches spanning the city offering sales, lettings, property management and consultancy. Sponsors of Chestertons Polo in the Park – the world's largest three-day polo event – the company is regularly recognised by industry awards commending it for its innovation, marketing effectiveness, customer service and corporate social responsibility. www.chestertons-international.com