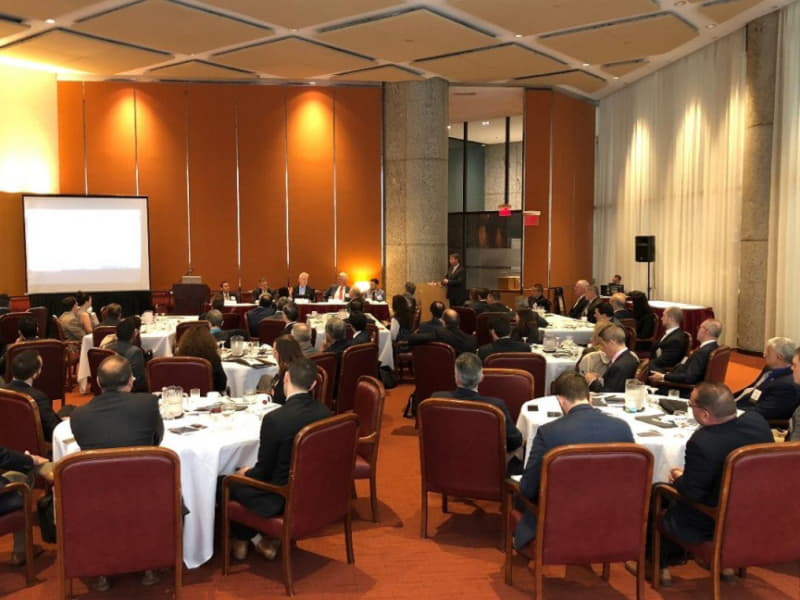 The Building Owners & Managers Association of Greater New York (BOMA New York) is pleased to announce it hosted its 2018 Energy Action Day, at Club 101 on May 10, 2018. The event featured keynote speaker Tony Malkin, Chairman and CEO of the Empire State Realty Trust,followed by a panel of experts including Gary Fescine, FMA, RPA, Director of Enterprise Services and Head of Global Building Operations, BlackRock;Alex Gazis, LEED GA, Real Estate, Facilities and Sustainability, Viacom; John Gilbert III, COO, EVP, CTO, Rudin Management Company; John Lee, Deputy Director for Buildings and Energy Efficiency, NYC Mayor's Office of Sustainability and Kevin Reade, Property Manager, SL Green Realty Corporation.
The Benefits of Energy Efficient Buildings
This year's Energy Action Day brought both landlords and tenants together to discuss the benefits of creating a sustainable future. Speakers addressed the challenges of achieving top-level performance buildings and discussed the factors contributing to a building's energy efficiency.
Keynote speaker, Tony Malkin spoke about a new program expected to come in effect this summer, where tenants can register directly for ENERGY STAR certification. Malkin played an instrumental role in advocating for this law, so that more tenants can become aware of their ENERGY STAR rating.
Leadershipfor a Sustainable Future
The ENERGY STAR for Tenants designation will encourage innovation in the real estate sector. The objective of the designation is to encourage commercial tenants and landlords to design and construct leased office spaces that achieve high levels of energy performance.Malkin stated that a major incentive is that tenants favor landlords and buildings that support cost-effective measures that yield excellent returns on investment. This will have a major impact as tenants account for up to 50% of energy consumed in office buildings.
Malkin added that, "broad adoption will save businesses billions of dollars on energy costs in the coming years, and that reduced consumption will afford savings in future capital outlays for energy generation and related infrastructure."
Sponsorship Recognition
The event was sponsored and supported by an impressive roster of leading real estate and energy firms, including, Aggressive Energy, Calpine Energy Solutions, Code Green Solutions, Conrad Engineers, Constellation (an Exelon company), Donnelly Mechanical, EnergyWatch Inc., Steven Winter Associates, Weidenbach Brown and Yardi.
To view photos from the event, please visit our website here.
About Building Owners & Managers Association of Greater New York (BOMA NY)
BOMA New York is the largest member of BOMA International which represents commercial real estate, responsible for the ownership and management of some of the world's most prestigious properties. BOMA New York serves as the first line of defense for New York's working public, accountable for the safety, physical well-being and security of the City's 3 million office tenants. For more information, please visit the Association's website at www.bomany.org.