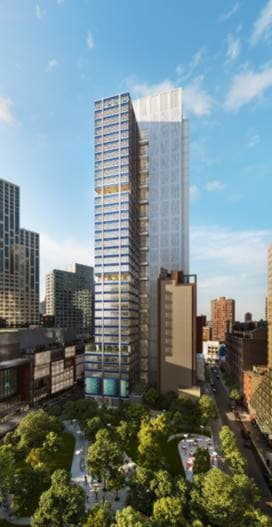 JEMB Realty Corporation (JEMB), a real estate development, investment and management organization headquartered in New York City, today announced the closing of a four-year, $235 million construction loan, one of the largest in Brooklyn to date, for One Willoughby Square, the 500,000-square-foot, contemporary, 34-story office tower in Downtown Brooklyn.
The loan was issued by Canadian-based Otéra Capital, one of the largest commercial real estate debt lenders in Canada, and brokered by Aaron Appel, Vice Chairman, Head of New York City Debt & Equity at JLL.
"We are appreciative of the opportunity to support JEMB with this high-quality project which will contribute to the ongoing positive transformation of Downtown Brooklyn," said Martin Laroche, Senior Director and Team Head at Otéra Capital.
As the first ground up, high-rise office building Brooklyn has seen in decades, JEMB broke ground earlier this year, in February 2018, and is expected to be fully complete by Q1 2021.
"It was a pleasure working with Otéra, who we have a long-standing relationship with," said Morris Bailey, Chairman of JEMB. "This project is truly one of a kind and will be the most iconic office building in Brooklyn."
JEMB was represented by Doug Heitner, Christy Mazzola and Steven Shafer of Kasowitz Benson Torres LLP.
Pre-leasing at One Willoughby Square has been successful, and the developers previously announced that they secured a 40,000-square-foot lease with world-renowned architecture, interiors and planning firm, FXCollaborative, formerly known as FXFOWLE, to be the property's anchor tenant. Additionally, and as announced by the New York School Construction Authority, there will be a 300-seat, 87,000-square-foot school that will be housed throughout the initial six floors of the tower.
To continue its momentum, JEMB is in further discussion with tenants to lease space at the development.
For more information about JEMB's One Willoughby Square, please visit the website at www.1wsq.com/ or contact Jacob Jerome at jacobjerome@jembrealty.com