Retail incubator opens in renowned underground market corridor below Eighth Ave., between 57th/58th Streets, introduces next generation of enterprising entrepreneurs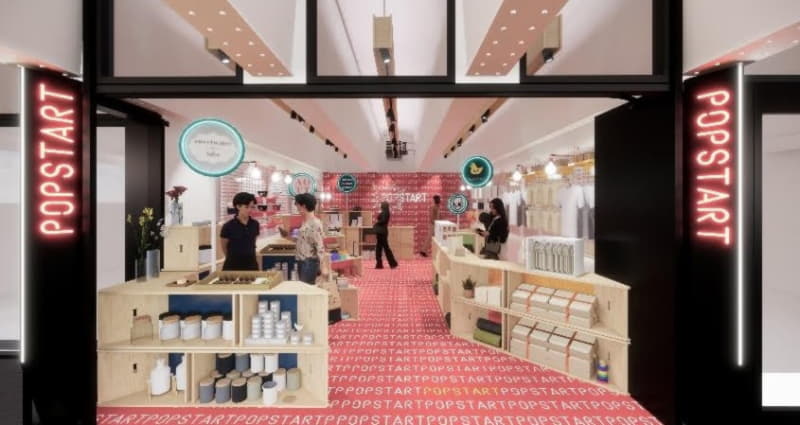 TurnStyle Underground Market added yet another surprise for shoppers, diners and commuters with the debut of PopStart, a revolutionary retail incubator designed as a showcase for exceptional, up-and-coming brands. Centrally positioned in a dedicated space within the underground retail corridor, its mission is to present exciting new retail businesses -- including many rooted in e-commerce -- in a highly trafficked brick-and-mortar setting.
"PopStart will provide unprecedented exposure for creative entrepreneurs," says Susan E. Fine, a principal at Fine Development Partnerships, the site's developer. "It's a groundbreaking program that can help these businesses further refine critical marketing tools and begin to establish exciting new product lines."
The first brands being introduced at PopStart include Freshly Cut Boutique, an e-commerce line of affordably chic clothing and jewelry, curated by Emily Englehart; Simply Chickie, featuring gender-neutral children's clothing made from organic cotton; and Mad Batter Brownies, delectable confectionaries that may be custom-designed for special occasions. In addition, two jewelry-focused collections are making their PopStart debuts, comprising Gabriela Ceballosand All of The Things NYC (AOTT).
TurnStyle, which spans 57th and 58th Streets, beneath Eighth Avenue, and connects to the Columbus Avenue/59th Street subway hub, boasts a dynamic mix of 39 eateries, shops, and pop-ups. In addition to a healthy blend of one-of-a-kind retail and national brands lining the corridor, including PopStart in the middle, there is an exceptional collection of new-concept retail kiosks, nearly all exclusive to TurnStyle, which offer distinct products geared to on the go commuters and shoppers. Stretching along the middle of the corridor, that group includes Salted Baked Goods, featuring rich dark chocolate brownies delicately topped with sea salt; Hell's Kitchen Hot Sauce with eight distinctive selections that channel the flavors of New York City; Baked in Color delightful chocolate chip cookies in rainbow and custom colors; Sleet & Sole, a line of richly designed, vividly colored socks; Woops! Macarons; fresh cut flowers by Posies; jewelry by Modern Opus; and Sweetwater Labs, an eclectic collection of natural skincare products, salves, aromatherapy candles, handmade jewelry, crystals and CBD lotions.
Adds Ms. Fine, "We pride ourselves on creating growth opportunities for unique brands, such as former e-commerce pet supply retailer Woof, which recently doubled its space here. No doubt, PopStart will lay the groundwork for even more success stories."
PopStart will feature up to five start-up retail entrepreneurs on a revolving basis, expected to change every six to eight weeks. Product lines will be displayed on flexibly designed cabinets and cases created by the TurnStyle team, so that minimal investment in infrastructure and set-up will be required of the start-up retailers. Ongoing categories being highlighted at PopStart will include comestibles, fashion, dry goods, artwork and jewelry, among others.