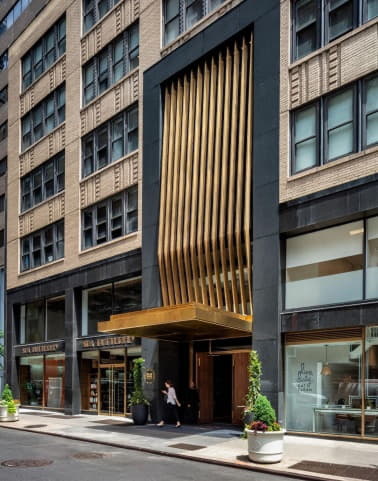 Marx Realty, a New York-based owner, developer and manager of office, retail and multifamily property across the United States, announced that health-conscious salad chain, Sweetgreen, has signed a 3,500-squre-foot lease for a new location at 10 Grand Central. The fast-casual favorite is slated to open in late summer 2020 and will front 44th Street. Tenants at 10 Grand Central will be able to place individual or catering orders directly through the use of the new Marx Connect app available in all Marx buildings.
Marx Realty was represented in-house by Henry Henderson, vice president of leasing. Sweetgreen was represented by Jacqueline Klinger of The Shopping Center Group.
"We are happy to welcome this popular dining option to our already diverse dining menu at 10 Grand Central," said Craig Deitelzweig, President and CEO of Marx Realty. "Sweetgreen joins foodie favorites like Little Collins, Mulberry & Vine, and Inday and we are excited to bring another option for dining at 10 Grand Central. Sweetgreen and Little Collins will definitely elevate the dining experience for tenants at 10 Grand Central as well as for those in the Grand Central neighborhood."
Sweetgreen was founded in 2007 as a destination for simple, seasonal, healthy food and currently operates 20 locations in New York City. The company's mission focuses on inspiring healthier communities by connecting people to real food. On top of acknowledging their role as a critical link between growers and consumers, Sweetgreen takes especial care of their approach to design. As with all their locations, this new space at 10 Grand Central will preserve and honor the look and feel of the building and will include an open kitchen aesthetic that reflects their commitment to transparency.
The recent completion of a redesigned four-story entry portal, marquee, lobby, lounge, Ivy terrace, and 40-seat conference space was part of the $48 million repositioning of the 35-story Ely Jacques-Kahn designed office tower. In addition, the repositioning included a new façade with a soaring marquee featuring brass fins and oversized walnut doors, which are attended by a uniformed doorman. The walnut wood, brushed brass, and polished concrete accents from the lobby evoke a high-end hotel vibe that continues with a suite of hospitality-styled amenities.
The seventh floor indoor/outdoor café and lounge boasts a confluence of 7,500 square feet of hospitality-styled amenities including a well-appointed lounge with ample seating and a café, a conference facility with seating for 40 and The Ivy Terrace, an inviting outdoor space reminiscent of a 1930s era garden party. The latest addition to the building is a Penthouse Collection with some of the swankiest spaces in New York.
Sweetgreen's new lease is the latest in a diverse list of new leases at Marx Realty's 10 Grand Central. The new leases, expansions and extensions include content targeting company ZEFR; weekly online news magazine The Week; communications consultant Montieth & Company; real estate investment firm Benenson Capital Partners; and, Goldman Sachs-backed Crux Informatics. High-profile tenants also include Dwayne "The Rock" Johnson's production company, Seven Bucks Productions (as reported by the NYPost.com); insurance giant MassMutual, international news agency Agence France-Presse; UK-based sports private equity firm 23 Capital; asset management firm Everside Capital Partners; and, educational technology company Decoded.
The asking rent for the retail space was of $135 per square foot. The building's office space asking rents range between $82 and $132 per square foot.