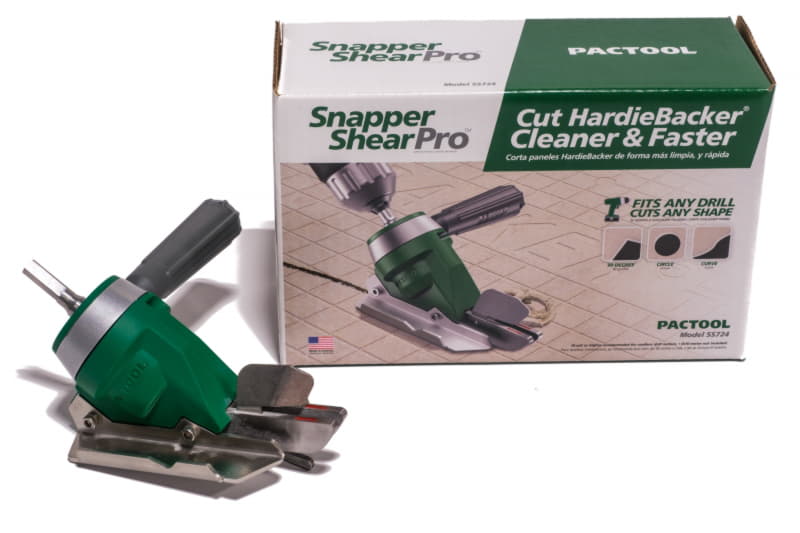 Gyre9, a new product design and engineering firm, has completed the design and engineering of a new tool that significantly improves the cutting of cement backer board for PacTool's Snapper Shear line, according to President and Chief Engineering Officer, Ed Gilchrest.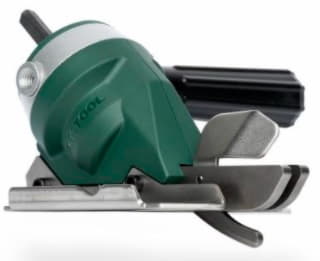 Gyre9 successfully took the existing Snapper Shear technology and transferred it into a smaller package that would adapt to any 18-volt or greater cordless drill and eliminate the need for cords to deliver power. The final product design is now available as the PacTool Snapper Shear Pro.
Gilchrest explains, "The idea was to develop a small yet rugged design. This helps with line of sight and overall durability and longevity of the product. We also incorporated a dual position, removable, handle. This allows the user the option to use their dominate hand to achieve a comfortable experience.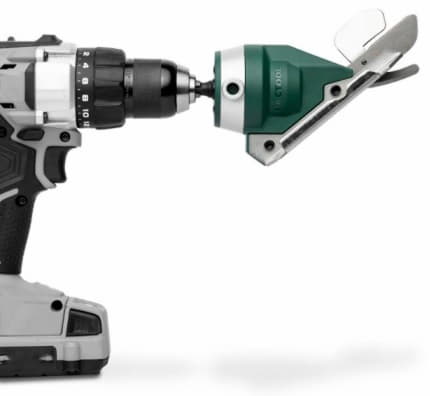 The blade needed to shear through Hardiebacker® fiber cement board up to ½" thick cleaner and faster. The new, unique cutting shear was designed to enable users to cut circles and curves into backer board as small as a 3" diameter, as well as straight and 90° cuts.
With this innovative design, we were able to shear the Hardiebacker® with 99% less dust than the competition, allowing users shear practically anywhere, including indoors. The product works with a standard cordless drill reducing the number of tools needed to bring to the job, according to Gilchrest.
About PacTool
PacTool is known for leading products in the construction, renovation and remodeling segments and is part of General Tools, a recognized leader in the design and development of precision tools. With more than 1,200 products, including specific-purpose hand tools as well as precision measuring and inspection tools, General Tools remains committed to delivering exceptional customer service to professionals, DIYers and hobbyists around the world. For more about General Tools and its products, visit: www.GTI-Brands.com.
About Gyre9
Gyre9 is a product development company focused on the research, design, and engineering of complete market ready solutions. Our skilled team of Industrial Designers, Mechanical, and Electrical Engineers are equipped to manage every stage of the process. Integrating with an internal team or working independently, we provide support from inception through sourcing and production.
We have structured our product development process so that thought-provoking solutions flow freely from concept to breadboard to the market. Our goal is to continuously provide our clients with patentable, marketable, and more profitable designs. We strive for innovation that can define new product segments. For more information: www.gyre9.com.