Major Milestone Hit as Leasing Picked Up Drastically During Autumn Months at Brooklyn's Newest Luxury Rental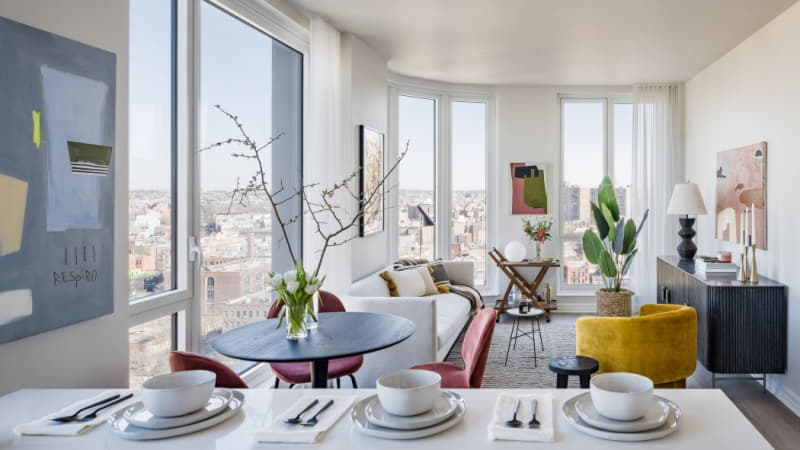 (Photo courtesy: Alexander Severin Architectural Photography)
In South Williamsburg, The Dime – the striking, 23-story terra-cotta and glass tower architecturally intertwined with the landmarked 1908 Dime Savings Bank – has reached 50 percent occupancy. The building's 177 rental apartments, comprised of studios, one, two, three-bedroom homes, plus two stunning penthouses, began leasing in the early summer at the height of the Covid-19 lockdowns in New York City following a slight delay in launching. Despite the pandemic, move-ins began at the building over the summer, and leasing has picked up drastically in the months of October, November and December.
"We've been delighted to welcome residents to The Dime, and hitting this milestone is incredibly gratifying at this challenging time for our city. It's exciting to watch as the building continues to fill up and come to life as a dynamic community," said Sam Charney, Founder and Principal of Charney Companies. "Celebrated Brooklyn artists Swoon and Tom Fruin have each created murals for The Dime, giving it a vibrant and creative edge that we're sure residents will appreciate in addition to its many amenities and comfortable lifestyle."
Jointly developed by Charney Companies and Tavros Holdings, and designed by Fogarty Finger Architecture, residences at The Dime feature soaring ceiling heights, floor-to-ceiling windows, and sweeping views, including multiple New York City skylines, the Williamsburg
Bridge, and NYC harbor. The modern apartments are thoughtfully-designed to evoke calm and relaxation with high-end finishes and appliances, including stacked washer/dryers. Penthouses and select residences feature expansive private terraces.
"The Dime was designed to be future forward with its amenities and services, including smart and no-touch technology. Our residents have responded really positively to our approach, especially as we continue to navigate the current marketplace," added Nicholas Silvers, Founding Partner of Tavros Holdings. "We're seeing a huge demand for private outdoor space and plentiful lounge and work space. In addition to the tech-savvy amenities we offer, we're seeing that new tenants appreciate access to The Dime's private gym and basketball court, as well as garage spaces for the increasing number of renters who have decided that a car is especially valued at this time."
The Dime is home to a captivating lobby entrance, complete with elegant furnishings, soft lighting, lush plants and a spectacular, specially commissioned large scale mural by Swoon. The full-service building offers attentive doormen and concierge service at all hours, as well as private indoor storage units available. A smart Intercom and Keyless entry system by ButterflyMX provides additional safety and convenience, along with an innovative Smart Package Room for securely managing deliveries. The entire building is Wi-Fi enabled and complimentary in both indoor and outdoor common areas. In-building bicycle storage is also available as is garage space for parking.
An abundance of private outdoor space at The Dime totals over an acre with plenty of room to socially distance. The building's entire fifth floor sports a dynamic mix of lifestyle amenities including an expansive terrace featuring comfortable seating throughout, a community garden, space for yoga, a cooking area with grills, multiple dining tables, and lush greenery set around a great lawn. An indoor Wi-Fi-enabled lounge offers plenty of room for residents to unwind on comfortable sofas, get lost in a book on cozy reading chairs, or catch up on work at spacious tables. Residents will also find a basketball court and a state-of-the-art fitness center programmed by The Wright Fit, as well as an in-house wellness programming including fitness classes led by tenant professionals.
At the penthouse level, residents will enjoy a private vintage-style lounge with both indoor and outdoor areas and mesmerizing views. The lounge's speakeasy-inspired bar is outfitted with elegant seating, warm library lighting, and art and sculpture, making it the perfect space for entertaining guests.
"The Dime has generated a good deal of excitement in the rental community, with its beautiful architecture, great layouts and spectacular views," said Matthew Villetto, Executive Vice President, Douglas Elliman Development Marketing. "We initially captured a lot of interest through our virtual leasing program – with both local New Yorkers and renters in other parts of the country looking to come to New York City – able to engage with our in-depth 3D tours and online collateral. Now that The Dime is ready for immediate occupancy, and with our onsite leasing office now open, we've seen leasing accelerate. As prospective tenants come and experience this remarkable building, the response has been overwhelmingly positive, resulting in many deals closing quickly."
Located at 275 South 5th Street, The Dime is well connected to transit and ideally located in walking distance of the L train and just one block from the Marcy stop on the JMZ trains at the foot of the Williamsburg Bridge, which offers ease of accessibility to the lower east side of Manhattan. Two East River ferry stops are within minutes of the building, as are nine bus lines. A Citibike station is adjacent to the building for bicycle riders. An abundance of green space can be found throughout the neighborhood, including Domino Park, McCarren Park, East River State Park, Cooper Park and Grand Ferry Park.
Prices at The Dime begin around $3,000 for studios, and over $7,000 for three-bedroom apartments. Penthouse residences with wraparound terraces are priced from $13,000. For more information please call 718-599-DIME or log on to www.thedime.com where virtual, 3D apartment tours are also available.
About Charney Companies
Charney Companies is a fully integrated real estate development, construction, brokerage and management firm with a focus on developing, owning and operating first class residential and commercial real estate in the New York City Metro area. From ground up construction to adaptive reuse and value add repositioning, Charney plays an integral role in all aspects of the development process, and leverages the expertise and experience of their principals to deliver superior product to the marketplace and best in class returns for their investors. Charney owns, operates and is under construction on over half a million square feet throughout Brooklyn and Queens, and has won awards and accommodations from municipal organizations and media outlets for their work over the last 5 years. Charney is currently building, delivering and designing low and mixed income housing under the "affordable NYC program", and has recently shepherded and completed projects through the NYC environmental voluntary cleanup program. Their multidiscipline approach to real estate development, and expertise in navigating the multitude of city agencies and city, state and federal programs makes Charney unique in their ability to execute sophisticated projects typically undertaken by only the largest of national development firms.
About Tavros Holdings
Tavros targets a range of NYC real estate investments across various local markets and product types, with a primary focus on ground-up development and repositioning of income-producing properties in Manhattan, Brooklyn, and Queens.
Tavros invests on a discretionary basis, with a strong focus on New York City, and a global investor base of family offices, trusts, high net worth individuals, and institutions. Core to the Tavros discipline is the quality of its partnerships with tenants, investors, and lenders. As an owner and property manager, Tavros aims to ensure a positive experience for its tenants through attention to detail and a focus on quality of life.
The cornerstones of Tavros' philosophy are research, due diligence, and creative investment strategy. This combined with the in-depth experience and expertise of Tavros' team provides a competitive advantage in the marketplace.