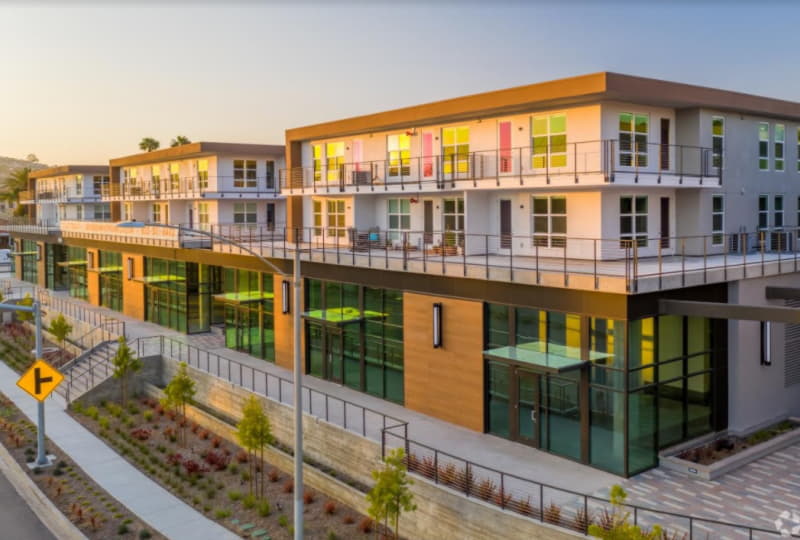 Square Mile Capital Management LLC today announced that it has originated a $69.75 million loan secured by JPI Pacific Beach, a multifamily property located in the Pacific Beach submarket of San Diego, CA.
The loan was made to JPI Companiesand will replace the existing construction debt now thatthe property has received its final Certificate of Occupancy as of July 2020. The financing will be a bridge to stabilization and was arranged byScott Petersonof CBRE's San Diegooffice.
Square Mile Capital Principal Tom Burns said, "This transaction was a compelling opportunity to finance a trophy-quality multifamily asset in a submarket with significant barriers to entry. It also helps us to continue building a strong lending relationship with the JPI Companies and CBRE. The property will continue to benefit from its significant lifestyle advantages situated at the gateway to San Diego's Mission Bay Park and from being directly off Interstate 5, providing renters the ability to get to both Downtown San Diego and University Town Center."
JPI Pacific Beach is a recently delivered 172-unit, 3-story multifamily asset located along Mission Bay Drive and adjacent to Interstate 5, located less than 10 minutes from downtown San Diego. The property is 86.6 percent leased and residents enjoy direct access to Pacific Beach. JPI Companies was attracted to the site because it was one of the only developable parcels with critical mass in Pacific Beach, and no institutional-quality apartments had been constructed in the submarketin the past 40 years. Residents will have access to a variety of amenities and recreation facilities including a swimming pool, gym, business center, clubroom with a bay view, outdoor BBQ's, bike lockers, and watersports storage units. Additionally, residents will benefit from a number of walking, hiking and biking trails as well as the property's proximity to the boardwalk or Ocean Front Walk, which is a 3.2-mile-long beach path.
About Square Mile Capital Management LLC
Square Mile Capital Management LLC is an integrated institutional real estate and investment management firm based in New York. The firm has an established history of successful investing in commercial real estate at all points in the market cycle. Square Mile Capital's experience supplying flexible equity and debt capital solutions in diverse property sectors and across the risk spectrum, combined with its integrated national sourcing and investment platform, facilitates the creation of value for our investors, partners, borrowers and counterparties. Square Mile Capital's commercial real estate debt platform provides customized capital solutions for real estate owners and developers throughout the United States utilizing our broad investment platform, product expertise and research resources. The firm seeks to identify the impact of long-term trends on real estate values and target its equity investments on key investment strategies likely to benefit from such trends. For more information, visit www.squaremilecapital.com.