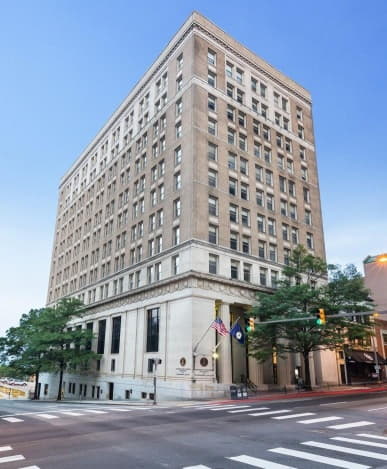 BHI, a full-service commercial bank, announced that it has arranged $26.5 million in construction financing for the redevelopment of 629 E. Main Street in Richmond, Virginia, a 12-story office building that will be converted to mixed use multi-family. The borrower is Douglas Development Corporation (DDC), which will convert the property to 188 rental units comprising studios and one and two-bedroom apartments, and 132,806 square feet of commercial space.
The construction of 629 E. Main Street will allow for a complete renovation of the building, which was built in 1922, while still preserving its historic interior and architectural details. The property is located in the heart of downtown Richmond, the Virginia state capital, just minutes from the Virginia State Capitol building, City Hall, and the city's main attractions. Richmond is the third most populous area in the state and a transportation crossroads, home to multiple corporations and five of the state's largest law firms.
"BHI works with us to understand our business and support our goals. The bank has demonstrated confidence in our vision for the conversion of 629 E. Main Street, which we believe is a prime property, especially given its central location and period architecture," said Norman Jemal, Principal of Douglas Development Corporation.
629 Main Street is the second similar transaction that BHI has funded for Douglas Development, which has a thirty-year track record in the District of Columbia as well as surrounding suburban Virginia and Maryland, earning a reputation for revitalizing underdeveloped, emerging areas.
"BHI's long-standing relationship with Douglas Development Corporation is indicative of our personal approach to client service. We tailor financial solutions to meet clients' individual needs and growth objectives. Our goal is to partner with clients, not just for a single transaction, but over the long term," said Gil Karni, BHI Chief Executive Officer.
"The repurposing of assets has become a highly viable approach to meet the burgeoning demand in the multi-family sector. We have worked with Norman and his team over a period of years. They recognized the potential of the Richmond property and we welcome the opportunity to collaborate with them again on this new project," said Steven Caligor, Executive Vice President and Division Executive of the BHI Structured Finance Group – CRE, Healthcare, Technology and Treasury Services.
BHI is a registered service mark of Bank Hapoalim B.M., Israel's leading financial institution. BHI's U.S. division provides commercial lending solutions to middle market clients in sectors including commercial real estate, C&I, food and beverage, entertainment, apparel, healthcare and high-tech. In addition to its New York Branch, the bank has U.S. Representative Offices in Woodcliff Lake, New Jersey; Miami, Florida; and Los Angeles, California.
About Douglas Development Corporation
For three decades, Douglas Development Corporation has garnered redevelopment successes in the District of Columbia, as well as in suburban Virginia and Maryland. Douglas Development has earned a reputation for revitalizing underdeveloped, emerging areas and continues to win praise from local government authorities, community members, neighbors, and the real estate community at large.
Founder and President Douglas Jemal established Douglas Development in 1985. While the company remains a privately operated and family-owned and controlled company, it has since grown into a fully integrated real estate company with over 100 employees, expanding to New York, New Jersey and Pennsylvania.
With a current portfolio of more than 10 million leasable square feet of office and retail space, a vast portfolio of multi-family buildings, and more than 5 million square feet of developable real estate in the pipeline, Douglas Development is well-established as one of the most dominant and successful real estate developers in the Washington Metropolitan area.