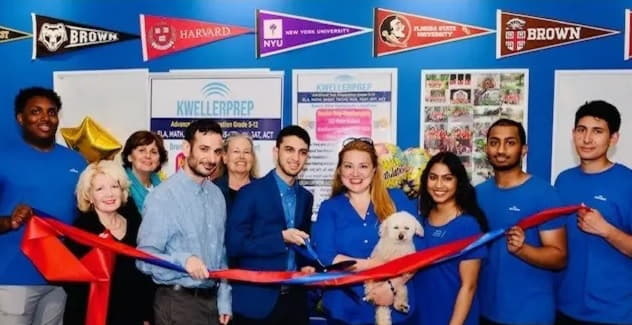 Kweller Prep is a 15-year, established, accelerated supplemental educational program with a time-tested record of success. This program helps students get to the next level of their academic careers. Kweller Prep specializes in competitive middle, high school, college, and graduate school preparation. Class sizes are limited to 10 students and are offered through zoom online and in-person. Kweller Prep has a very intentional, dedicated mission to guide students to advance to higher education, including placing them in highly competitive environments and building their careers. Kweller Prep purposely hires tutors who reflect the students that are served. Kweller Prep identifies early talent and focuses on holistic learning approaches that place its students on track for success. Kweller Prep has helped empower students to excel for over a decade.
Kweller Prep participates in flex spending and dependent care. A Dependent Care FSA (DCFSA) is a pre-tax benefit account used to pay for eligible dependent care services, such as summer day camp, after-school programs, and childcare. Kweller Prep is also certified WBE (100% Woman-Owned) and a licensed vendor for the NYC Department of Education. Kweller Prep is a member of the National Afterschool Alliance and is an accredited learning services provider candidate with the Middle States Association. Kweller Prep proudly sells over twenty of its company's high-quality textbooks on amazon, allowing for all levels of accessibility and affordability to its course materials.
Kweller Prep is a proud supporter of many diversity initiatives and outreach programs throughout NYC. Company founder Frances Kweller launched the First in Family Fund, a 501C3 nonprofit, and welcomes donors to support our cause. Kweller Prep also partners with various Alumni groups, including the Stuyvesant Alumni Association, to offer discounted SHSAT prep services. Kweller Prep is a longtime supporter of inclusivity programs geared towards helping all students gain entry into screened and specialized high schools. Kweller Prep webinars and workshops provide expert knowledge on how these schools create academic pipelines that lead to scholarship opportunities and top college acceptances.
Kweller Prep was developed by Frances Kweller, an attorney-at-law and daughter of immigrants. Frances graduated from New York University's Steinhardt School of Education and Hofstra University School of Law. Frances is a NYS Bar Association and the National Association for College Counseling (NACAC) member. Frances serves as an education news expert. She is interviewed regularly on national television and in newspapers.