Six companies will go on to compete for the grand prize at the Cleantech Open Global Forum in November.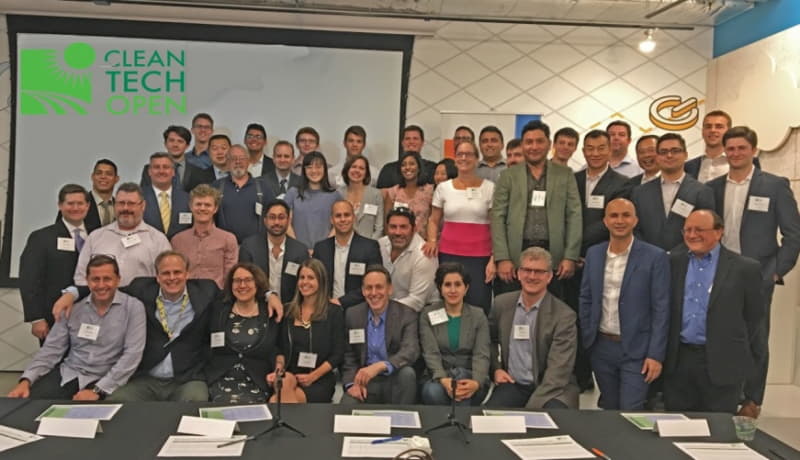 Cleantech Open Northeast, the Northeast division of Cleantech Open, the world's largest cleantech accelerator, announced its 2019 regional winners: Aeroshield, Flux Marine, Quatcare, and Teratonix. Each of these companies will receive $10,000 in cash plus additional in-kind services and will go on to represent the Northeast at the Cleantech Open Global Forum in Los Angeles, this November 11-12. There, they will compete with emerging environmental and energy technology firms throughout the nation for the national grand prize.
The four regional winners were selected and announced by a judging panel of top cleantech and business leaders at the Cleantech Open Northeast Regional Finals at AWS Loft in New York City. The evening featured top startups with operations in Massachusetts; New York; Pennsylvania; and Rhode Island. Yesterday at the Semi-Finals, 39 judges from around the region came together in New York City to see all 32 teams pitch. They had previously reviewed curriculum deliverables. The Semi-Finals judges selected the top six teams to have the opportunity to pitch in front of a live audience and a panel of Finals Judges.
207 people attended the Finals event at Amazon Web Services (AWS) Loft in New York City, including entrepreneurs, investors, business leaders and public officials. The Finals Judges were Scott Dupcak of Constellation Technology Ventures, Carolyn Kissane of New York University; Jiong Ma of Braemar Ventures, Nicholas Querques of NYSERDA, and Tibor Toth of the Massachusetts Clean Energy Center (MassCEC).
The four winning teams represented solutions in green building, transportation, water, and energy distribution & storage. Of the 32 companies graduating from the 2019 Cleantech Open Northeast accelerator, 11 hailed from Massachusetts, eight from Canada, five from New York, three from Rhode Island, two from New Jersey, two from Pennsylvania, and one from Connecticut.
Beyond the four winners, two teams -- Enersion (energy generation) and Feedback Solutions (energy efficiency), both of Ontario, Canada -- were selected to represent the Northeast in the competition at the Global Forum in Los Angeles. All Cleantech Open Northeast graduating teams are invited to attend the Global Forum where they can showcase, meet investors, and expand their networks.
More about the 2019 Cleantech Open Northeast winners and finalists
Aeroshield (winner)
Category: Green Building
Based in: Massachusetts
Summary: Aeroshield has developed a highly transparent, super-insulating silica aerogel. The nanoporous glass is composed of 95% air. By placing Aeroshield between two panes of glass, performance is now competitive with triple-pane windows at the cost and installation ease of a double-pane. This makes for a window 50% more energy efficient than 80% of windows installed in today's homes.
Flux Marine (winner)
Category: Transportation
Based in: Massachusetts and Rhode Island
Summary: The automotive industry has recently undergone an electric revolution, yet the marine industry lags far behind. REvolution OUtboards has set out to design, manufacture, and market electric outboard marine motors to the boating industry. Our motors hold several tremendous advantages over gasoline counterparts; decreased maintenance costs, increased reliability, and minimized pollution. Flux Marine's electric outboards are designed to minimize failure points and utilize long-life solid state components, making them extremely reliable and virtually maintenance free. The electric outboard motors do not leave a footprint on the environment, and have the potential to reduce overall recreational outboard CO2 pollution levels by 240 million pounds annually with a 1% market capture.
Quatcare (winner)
Category: Water
Based in: New York
Summary: QUATCARE is striving to solve global industrial water microbial contamination. Today, this problem is addressed by using expensive chemicals that cause bacteria to develop resistance and mutate. QUATCARE's approach is more sustainable, eco-friendly and does not create microbial mutations- all at a low cost while allowing water waste to be better recycled and reused while controlling the spread of microbes, further reducing the impact on the environment. QUATCARE embeds a mix of quaternary ammonium compounds permanently into the surface of a product, allowing the surface to have continuous antimicrobial activity against a broad spectrum of pathogens.
Teratonix (winner)
Category: Energy Distribution
Based in: New York and Pennsylvania
Summary: Currently, IoT sensors and active medical devices are mainly powered by batteries and there is no commercially available remote powering solution for either. Teratonix is aiming to address the limited lifespan of a battery, which leads to high battery replacement/maintenance cost and huge amount of battery waste. Teratonix has developed an ultrahigh-speed Metal-semiconductor-metal (MSM) heterojunction diode. This diode's speed is 100-1000x times faster than other known diodes, and has zero-bias cutoff frequencey > 100 GHz, making it the only known technology capable of rectifying broadband radio signals into DC power.
The Finalists
Category: Energy Generation
Based in: Ontario, Canada
Enersion Incorporation has invented a green cooling solution that saves up to 70% on electricity by utilizing unused waste/heat, without using any harmful refrigerants. Enersion's chiller uses any thermal energy - such as solar energy or low-grade waste heat (an existing by-product of operations) to produce cooling power. It also can be paired with a CHP (Combined Heat and Power) unit to offer cooling, heating and electricity as one integrated solution.
Category: Energy Efficiency
Based in: Ontario, Canada
Feedback Solutions technology utilizes raw data produced by people-counting and tracking sensors to apply their algorithm via an Intel Gateway, resulting in 95+% accurate, real-time occupant counts that are communicated via BACnet/IP to the Building Automation System (BAS) optimizing ventilation rates to reduce energy consumption and GHG emissions. This technology has the ability to normalize the raw data received for in and out counts across multiple access points for a zone or zones to provide accurate, real-time occupant data that is reliable enough to be used by the BAS to optimize the ventilation rates in the space. This technology has proven to be capable of reducing HVAC-related energy consumption by 30%, or greater, in numerous environments.
About Cleantech Open
Cleantech Open is the world's largest cleantech accelerator and is dedicated to providing entrepreneurs and technologists the resources needed to launch a successful cleantech company. Our mission is to find, fund and foster entrepreneurs with big ideas that address today's most urgent energy, environmental, and economic challenges. A 501(c)(3) not-for-profit organization, Cleantech Open provides the infrastructure, expertise and strategic relationships that turn clever ideas into successful global cleantech companies. Over the past eight years, Cleantech Open has trained over 1,200 early-stage clean technology startup entrepreneurs. A majority of alumni have survived the merciless technology startup "valley of death" and gone on to raise $1.2 billion and create over 3,000 clean economy jobs. Fueled by a network of more than 2,000 volunteers, Cleantech Open unites the public and private sectors in a shared vision for making America's cleantech sector a thriving economic engine. For more information, visit us online or follow us on Twitter.
About NECEC
NECEC (Northeast Clean Energy Council & NECEC Institute) is the premier voice of businesses building a world-class clean energy hub in the Northeast, helping clean energy companies start, scale and succeed with our unique business, innovation, and policy leadership. NECEC is the Northeast regional affiliate for Cleantech Open, executing the Northeast accelerator and business plan competition and building the region's innovation network with NECEC's successor program for cleantech entrepreneurs, Cleantech Navigate Northeast. Learn more at www.necec.org.